Best Beginner Music Theory Lessons Online
I see it often in students: You are a music student, and you start learning to play piano, or violin, guitar or any other instrument, and you love it. Then you need to start learning beginner music theory lessons. The teacher is often excellent at teaching the instrument, but doesn't have a passion for music theory. You start learning music theory late, and just can't get into it, because the teacher is not all that into it.
In a hurry? Check out these excellent resources that make learning beginner music theory lessons online fun: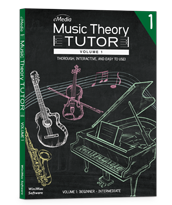 Music Theory Tutor Volume 1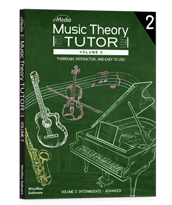 Music Theory Tutor Volume 2

&
You should really take music theory lessons from a teacher who is passionate about music theory. This way you will start to develop a love for music theory instead of hating it.

These theory lesson resources are really great because they teach music theory in a fun and exciting way. Students learn better and easier when they are having fun. Also, they follow a step-by-step approach which essential to music theory in my opinion. You cannot learn a new concept in music theory, if you haven't mastered the previous step. Music theory is a lot like mathematics. I always tell my students: Music is math you can hear. You can't start adding and subtracting when you can't count, can you? Music theory is much the same.
Why learn music theory at all?
Music theory is essential to understanding music. It is really difficult to do something without understanding what you are doing. Imagine trying to do Algebra without understanding multiplication or division. You won't get very far, would you?
I once had an exchange student from another country in my music class. She just didn't understand scales and key signatures. I sat her down one day and told her that instead of piano lessons, (she was playing grade 7 pieces) today we are going to learn music theory. I taught her scales: first the majors and then the minors. I made her write them out, and work out their progressions. When we started with the key signatures she suddenly said: "oh, now I understand!" She suddenly realized that what she didn't know before stopped her from understanding her piano playing.
Is not knowing how music is constructed stopping you from achieving in your instrument playing? What if you are destined to be a great composer? You won't really know if you don't try it. If you're not living your life's purpose, you will always have an emptiness inside.
An easy, fun way to learn music theory
The program that I recommend above teaches music theory in a fun and engaging way. Volume 1 has 230 lessons of practical music theory taught with pictures, sound and interactive tests through which you get immediate feedback. This enables you to know where you went wrong, and fix your mistakes. Based on your mistakes and responses, it will give you more of the same, or will let you move on to the next level.
It teaches you to read music and understand rhythm. You can sing or play back melodies, tap rhythm, and guess intervals. After each lesson there is a quiz. Imagine the feeling of accomplishment when you pass them one by one.
What you get in this beginner music theory lessons program
You get a pr
ogram designed by a university professor of composition and that follows the step by step approach. It recognizes your weak spots as you progress, and gives you more practice in those aspects. It has a comprehensive curriculum that satisfies the requirements in Canada and most other countries. It covers aural (ear) training as well as solfege and sight-singing. Scores and statistics show your progress, and Volume 1 takes you from grade 1 – grade 5. Volume 2 takes you from grade 6 – grade 9.
Volume 2 offers 430 interactive lessons and builds on the knowledge of volume 1 until you are able to compose.
How you can use music theory
Music theory helps you understand what you are doing when it comes to playing your instrument. What key is it written in? How do you play the rhythms in your piece or song? Can you read the music, or do you just play by ear? What form is it in? How do you know which places to emphasize and which to go quieter? What do the terms and symbols on your score mean?
And above all, it helps you have the knowledge you need to be able to compose.
Options to buy the beginner music theory lessons program
You can buy by clicking the links in the pictures at the top of this post, or you can buy both at a discounted price here:
&
Music Theory Books From Amazon
Alfred's Essentials of Music Theory: A Complete Self-Study Course for All Musicians (Book & 2 CDs)
Music Theory: From Beginner To Expert – The Ultimate Step-By-Step Guide to Understanding and Learning Music Theory Effortlessly
The Chord Wheel: The Ultimate Tool for All Musicians
Alfred's Essentials of Music Theory, Complete (Lessons * Ear Training * Workbook)————– (CD's Not Included)
Practical Theory: Complete (Spiral-Bound Book)
Alfred's Essentials of Music Theory, Bk 1-3: Ear Training, 2 CDs
Berklee Music Theory Book 1 (Book/online audio) 2nd Edition
Berklee Music Theory Book 2 (Book/Cd) 2nd Edition
And for quick and advanced learning
Theory Notebook Complete
A Geometry of Music: Harmony and Counterpoint in the Extended Common Practice (Oxford Studies in Music Theory)
&
&
&
You can also do the Free Online Music Theory Lessons For Beginners, or the Music Theory online classes.
Please let me know how it's going and how you are enjoying your theory lessons. If you have any questions, please ask them in the comments, or contact me.
Save
Save


Save
Save
Save