Music Theory Online Class
If you want a music theory online class, this is for you. These lessons will be for music theory, grade 2. You can do the lessons at any age. There is also an option for doing an exam.  You don't have to do the exam for grade 2 if you are a teenager or adult. You should aim for doing an exam from grade 5 onwards.
If you haven't done them yet, the lessons for grade 1 are free, and can be found at the link free online music theory lessons for beginners. Please make sure you've done all of them before doing these lessons. I will find out if you haven't done them!
You can also get the software to help you. The cost is $12 per year. The first one is from grade 1 – 4 and the second from grade 2 – 9. Scroll down for the special price if you buy both.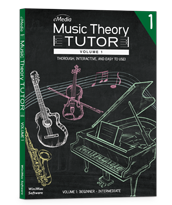 Music Theory Volume 1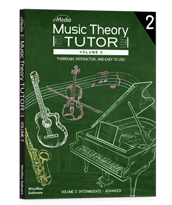 Music Theory Volume 2

&
In Grade 2 we are going to learn
Rhythm
Revision exercises

Tempo Markings

All about Rests

2/4, 3/4, 4/4 and 3/8, 6/8, 2/2 Time Signatures

16th Notes

All about Dotted Notes

All about Ties

Composing short rhythmic phrases

Review: Rests and Dotted Rhythms

Quiz
Melody
Review exercises

Note names: leger lines

Half Steps and Whole Steps

Motion Recognition

Write an Octave

Major Scale C, G, D, A, E, F, Bflat and E flat

Minor scale A, D, and E

Using Solfege

Sing and write a scale

Intervals, 2nds, 4th and 5th

Treble and Bass Clef Review

All the notes on the Grand Staff

Melody Workshop

Review

Quiz
This is how it will work: You print off the worksheet and complete it. Then you scan it, upload it to your computer, and send it to me as an attachment. I will then mark it, and send it back to you with my comments. Grade one was free, grade two is $5 per worksheet, that includes the marking and review.
Here are your lessons:
I will add one new lesson every week.
Grade 2 Lesson 2
Get the whole theory program from grade 1 – grade 9 for $11 per year.
&
Please let me know if you have any questions. You can do so by asking in the comments, filling our contact us page, or emailing me.
Save


Save